Intermediate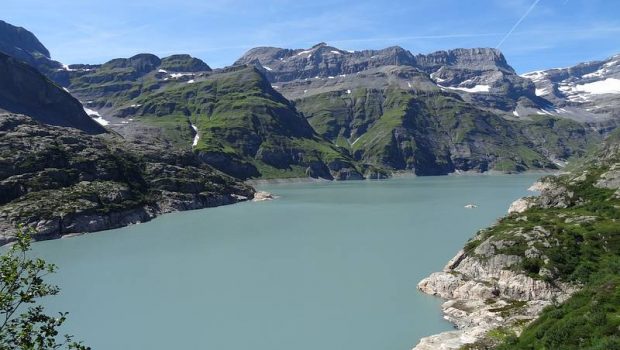 Bel Oiseau
Let's get back to the Lac d'Emosson, in the Canton of Valais, near Chamonix, for a walk much less renowned than the illustrious Cheval Blanc or Mont Buet: Bel Oiseau.
Located at the end of the Barberine Valley and the western end of Lake Emosson, Bel Oiseau presents itself as a great observatory on an immensity of peaks of the Canton of Valais, Mont Blanc, and Haut-Giffre Massif.
It is to be noted that this route has no difficulties whatsoever. The long 2 km warm-up on a paved road allows climbing more easily the 660 m of elevation gain between the parking lot and the summit.

Difficulty: Intermediate
Altitude: 2,628 m
Ascent: 2 hours 10 min
Descent: 1 hour 40 min
Elevation Gain: 660 meters
Round-trip: 9.1 km
Getting There
From Chamonix, continue towards Argentière then Vallorcine. Cross the Swiss border and turn left shortly after towards Finhaut. From there, follow the road that rises to the parking lot of the dam, at La Gueulaz.
GPS Coordinates (WGS 84) of the Starting Point: 46.069014, 6.937812
Ascent
At the parking lot of La Gueulaz, take the tunnel closed by a half barrier. A little less than 700 meters long, this pathway is partly illuminated: a headlamp is not useless in some places.
At the exit of the tunnel, one gets to the paved road along Lake Emosson before getting through the second tunnel this time much shorter.
Continue the road for about 1.30 km to reach on the right a rocky block on which appears in white paint an arrow indicating the trail ascending to Bel Oiseau.
The ascent in the grassy and dewy slope remains rather easy, and one arrives at a first plateau offering an excellent perspective on the lake.
The path is steeper along the stream and, after another plateau, turns slightly to the right in the direction of the peak. Then keep moving on the vast lawns with a clear view of all the tops that surrounds the hiker.
Pass the rock blocking two iron bars and continue, following the cairns, towards the pass to the right of Bel Oiseau.
Arrived at the pass after a small ascent in a scree, climb the rocky mound to reach the summit.
Descent
Take the same road as described above.
To reach the road more quickly, at the first plateau reached in the morning, near the dome located after the descent along the torrent, take the path rather badly marked on the left. This pathway goes to the left of the dome and gets to the road in about five minutes.

Photos of Bel Oiseau
Route
Download the route (KML) Download the route (GPX)
This post is also available in Français