Hard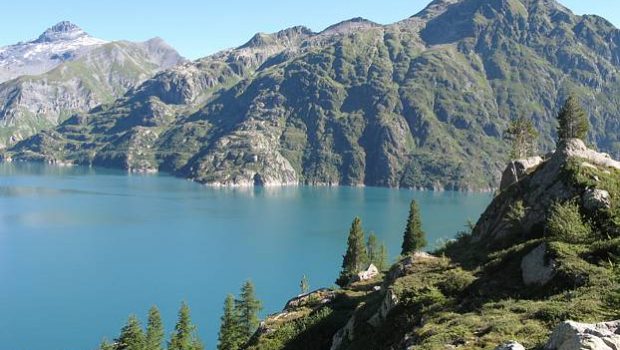 Cheval Blanc and Lacs d'Emosson
Overlooking the beautiful site of Emosson, the Cheval Blanc, facing Mont Buet, is a superb plateau offering a 360 ° panorama over the entire Alps.
Weather is primordial for this hike; It is necessary to benefit from a clear sky to enjoy the gorgeous decor.
The route is partly the same as the one already described for the Col de la Terrasse. There's no technical difficulty until the Col du Vieux. On the other hand, the final climb to reach the Cheval Blanc is reserved for trained hikers. The very steep path requires a secure foot; An exposed passageway is equipped with chains to facilitate the progression.
On the descent, this short passage can impress those who are afraid of heights as the hiker overlooks the lakes, giving a feeling of real emptiness.

Difficulty: Hard
Altitude: 2,831 m at the Cheval Blanc
Ascent: 3 hours 30 min
Descent: 2 hours 00 min
Elevation Gain: 850 meters
Round-trip: 12.1 km
Map: IGN 3630 OT
Getting There
From Chamonix, continue in the direction of Argentière then Vallorcine. Cross the Swiss border and turn left shortly after towards Finhaut. From there, follow the road that rises frankly to the parking lot of the dam.
Please note that due to work on the site of Emosson, the access to the dam is now restricted. Refer to this website for more information: http://www.emosson-lac.ch/
GPS Coordinates (WGS 84) of the Starting Point: 46.067829, 6.936626
Ascent
From the parking lot, go down the dam and onto the paved road. You have to leave on the left a first path that goes towards the Col du Passet, and take the following route in a curve to the right, signposted "Traces de dinosaures par la Gorge de la Veudale."
The pathway, marked out with cairns, gets rapidly into a canyon dominated by the Tête de la Veudale.
After about two hours, a short ascent allows reaching a small pass where névés are often present. From here, the Cheval Blanc is revealed to the hiker.
Continue on the right and descend towards the site of dinosaur tracks. The crossing footpath that gets to the Col du Vieux is clearly visible from the scree.
After 200 meters, the site of the dinosaurs tracks is reached. Proceed and climb the trail in the direction of the Col du Vieux.
After a short plateau, the road becomes steeper to climb the Cheval Blanc. After wide switchbacks marked with cairns, the trail arrives at a passage equipped with chains; Some attention is needed to cross this exposed passage.
A final jump comes at the top of the Cheval Blanc formed of a vast lunar plateau. The view is so extensive that it's hard at first to situate the multitude of observable summits.
Descent
Take the same path as described above.

Photos of the Cheval Blanc and Lacs d'Emosson)
Route
Download the route (KML) Download the route (GPX)
This post is also available in Français