Hard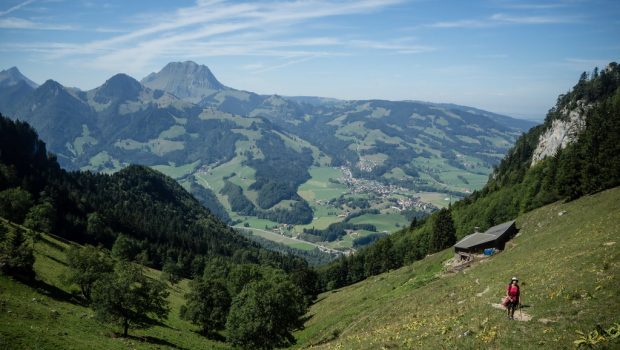 Col des Combes
Do you like my mountain photos? Do you want to support my website? I invite you to have a look at my Etsy shop. You will find there all my most beautiful mountain and landscape photos that you can download and print to decorate your home.
May special offer: 2 photos = 25% Off / 5 photos = 50% Off.
Located between Dent de Broc and Dent du Chamois, the Col des Combes remains a belvedere of choice on the summits of Fribourg such as Moléson or Entre Deux Dents, but also the snowy peaks of the Bernese Alps. Without difficulty at the beginning, the route passes through the village of Gruyères to descend towards the "Pont qui Branle" and the Châtelet before a steep ascent (average slope of 26%) in the "Bois des Combes."

Difficulty: Hard
Altitude: 1,668 m
Ascent: 2 hours 45 min
Descent: 1 hour 40 min
Elevation Gain: 1,140 meters
Round-trip: 13.5 km
Getting There
From Bulle, reach Gruyères and park in the wide parking lot at the foot of the village. For public transport users, get off at "Gruyères" stop.
GPS Coordinates (WGS 84) of the Starting Point: 46.58243, 7.07841
Ascent
From the car park, get to the Castle of Gruyères by going through the village. From there, turn right on the "Chemin de Ronde de Jehan l'Eclopé" to reach the cemetery. Continue on the pathway downhill in the woods. After several stairs, the track turns to the right and passes under the road to reach a little further the "Pont qui Branle" very recognizable by its frame made of wood. Then turn right and then left to return to the small paved road going to the Chatelet. The path then gets through the pasture of the Gissetta and gets into the "Bois des Combes. " The progression is markedly steeper by short switchbacks before flattening near the "Chalet des Combes du Dessous. " The road again becomes quite abrupt at the exit of the forest and reaches the "Chalet des Combes du Milieu" then the "Chalets de Combes du Dessus. " After some small switchbacks, the Col des Combes is won in about twenty minutes. From there it is possible to climb Dent de Broc recognizable by its cross at its top. However, only people with a secure footing can walk on this trail as it's rather vertiginous.
Descent
Take the same path as described above.
Photos of the Col des Combes
Route
Download the paper route (PDF) Download the route (KML) Download the route (GPX)
This post is also available in Français