Hard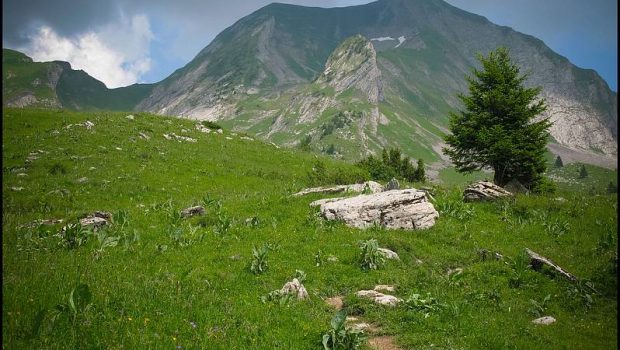 Mont Charvin
Let's get back to the Aravis Range to a place previously described in August 2007: Mont Charvin. The hike that I propose climbs the mountain overlooking the Lac du Mont Charvin. Located at the end of the range between Haute-Savoie and Savoie, Mont Charvin remains as a veritable balcony on the Mont Blanc Massif, Haut-Giffre, as well as the Beaufortain.
There are no difficulties, except the steepness of the slope after Aulp de Marlens. For the more adventurous, it is possible to make a loop while descending to the lake by Pas de l'Ours (exposed to the heights but equipped with cables).

Difficulty: Hard
Altitude: 2,409 m
Ascent: 2 hours 20 min
Descent: 1 hour 30 min
Elevation Gain: 1040 meters
Round-trip: 9.0 km
Map: IGN 3431 OT
Getting There
Reach Thônes, then take the direction of Serraval via the D12 road. At the entrance of Serraval follow the road on the left towards Le Bouchet via the D162. Pass Le Bouchet, then, after a switchback, go left in the direction of La Savataz. After the village, continue the road to a large car park and park there.
GPS Coordinates (WGS 84) of the Starting Point: 45.797964, 6.387297
Ascent
From Sardoches's car park, leave the trail to the left and follow the path to the right in the forest towards Mont Charvin and its lake. It rises gently up to the slope of "La Praz" pasture. After a right turn in a small wood, the itinerary proceeds in the meadow until Aulp de Marlens on a track from where you can see the summit as well as Aiguilles du Mont on the right.
From Aulp de Marlens, continue along the wide path pointing towards the well-visible Mont Charvin. The effort is more sustained due to the slope failure in the Combe du Charvin that will not decrease with altitude.
At an intersection (the sign has been removed) turn right to climb towards the peak. The pathway is even steeper and zigzags in the valley on a stony ground. After several switchbacks, the ridge is reached in about an hour.
Descent
Take the same path as described above.
Photos of Mont Charvin
Route
Download the route (KML) Download the route (GPX)
This post is also available in Français