Easy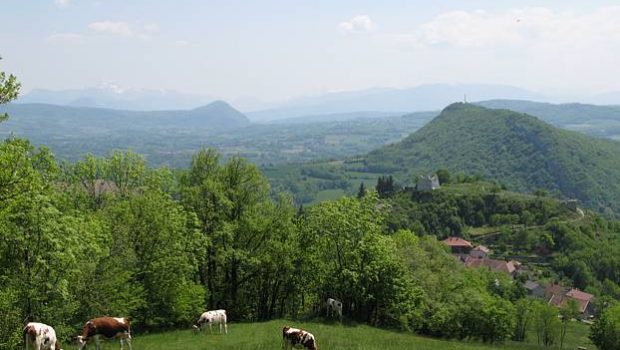 The Vuache
The Vuache is located in the west of Haute-Savoie. It is part of the Jura Massif from which it is separated by the Cluse of the Rhône. The Vuache is a narrow secondary range of 14 km in length and 1.5 to 3 km in width, Northwest-Southeast oriented. Its summit rises 1105 m above sea level.
Despite this low altitude, it is a belvedere of choice on the Jura, the Alps, and the Lake Geneva area.
Without any difficulty, this hike is open to all, but in spite of the short length, the difference in height can be hard for beginners.

Difficulty: Easy
Altitude: 1,105 m
Ascent: 1 hour 50 min
Descent: 1 hour 15 min
Elevation Gain: 525 meters
Round-trip: 6.4 km
Map: IGN 3330 OT
Getting There
From Annecy – take the direction of Epagny and pass the commercial area of "Grand Epagny" towards the Balme de Sillingy. Continue on the N508 road until Frangy and enter the village to follow the direction of Chaumont. At the entrance of the village of Chaumont located at the southern end of the Vuache, turn right and park in the small parking lot before the climbing wall.
From Annemasse – take the direction of Saint-Julien-en-Genevois and then continue the D1206 road until Viry. Keep moving on the D992 via Bellosy and turn right onto the D147 towards Chaumont.
GPS Coordinates (WGS 84) of the Starting Point: 46.035806, 5.959464
Ascent
From the parking lot, go back for a hundred meters and turn right between two houses towards the holiday cottage. The departure of the pathway is indicated by a wide sign.
The climb is regular in the forest by a very well-marked trail. At the exit of the woods, a panorama emerges on the Jura Massif and the valley.
Soon, a sign indicates a path that descends on the left in the direction of Vovray: you'll have to take this route for the return journey.
Keep moving to an intersection where you have to turn left direction of the summit. The track is narrower and steeper and reaches a belvedere that provides with a beautiful view of the Alps and Lake Geneva area (the Jet d'Eau of Geneva stands out clearly in clear weather).
Continue the footway that now offers lovely perspectives on the other side of the Vuache to reach the summit embodied by a huge cairn in the forest.
Descent
Turn back and proceed to the junction where you take the direction of Vovray. The pathway winds through the woods and quickly loses altitude. Get through the vast meadow and turn left on the way towards the houses.
Then follow the road for a hundred meters and turn left on a path marked by a small post. This route cuts and brings you back to the center of the village. From there, reach the departure car park.

Photos of the Vuache
Route
Download the route (KML) Download the route (GPX)
This post is also available in Français