Weather and Climate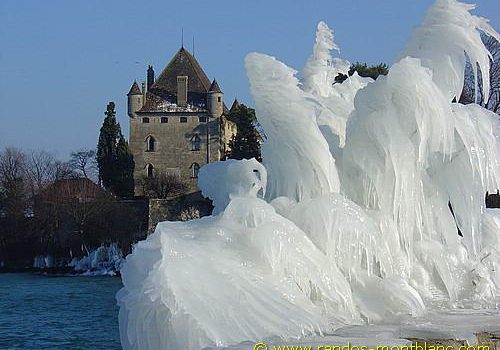 Photos of Yvoire in Winter Covered With Ice
Following the cold breeze blowing on 20 January 2005, the banks of Yvoire on Lake Geneva became mere captives of the ice, giving rise to memorable scenes.
The wharves of the CGN were prisoners of the ice. The magnificent sculptures of ice, worked under the effect of the violent wind, appeared to the eye of the observer completely stunned by this unusual spectacle. The street lamps and lights were transformed into frozen fountains for a day or two.

Photos of Yvoire in Winter Covered With Ice (20th of January 2005)
Characteristics of Lake Geneva
Crescent shaped, Lake Geneva is a border between France and Switzerland, the northern part of the lake being in Swiss territory and the southern part of French territory. Its main characteristics are:
Area: 582 km2, of which 41% is in France;
Perimeter: 167 km, of which 54 km in France;
Maximum width: 13.6 km, between Amphion and the bay of Morges;
Length: 73 km, from Geneva to Villeneuve;
Average level: 372 m above the sea;
Depth: 310 m, between Evian and Ouchy;
Volume: 89 km3.
Lake Geneva collects the water brought mainly by the Rhone (178 m3 per second).

This post is also available in Français