Very Hard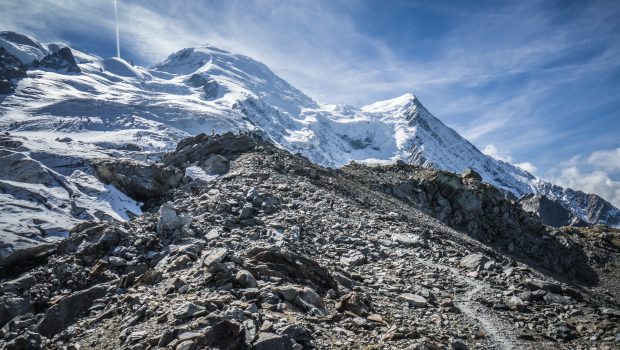 La Jonction (Chamonix)
La Jonction (The Junction) is one of the classics of the Mont Blanc Massif and the Chamonix Valley. Joining the Bossons and Taconnaz Glaciers, La Jonction offers a staggering view of the Aiguille du Midi, the Dôme du Gôuter as well as the Aiguilles Rouges. La Jonction constitutes an exceptional site as it allows treading on two glaciers and observe their seracs and crevasses in an enchanting environment. The high elevation gain represents the sole difficulty of the hike. Furthermore, hikers have to be very careful when the soil is wet as the rocks in the final part of the ascent can be very slippery.
Difficulty: Very Hard
Altitude: 2,589 m
Ascent: 4 hours 50 min
Descent: 2 hours 40 min
Elevation Gain: 1,650 meters
Round-trip: 13.0 km
Map: IGN 3630 OT
Getting There
On the Route Blanche to Chamonix, take the exit going to the Bossons. Follow the direction of the Bossons Glacier and the ski jump. Once arrived at the car park of the ski jump, turn left to reach Le Mont and the car park of the Bossons Glacier. After three zigzags, park on the right side of the beginning of the hiking path just before the sign indicating Le Mont hamlet.
GPS Coordinates (WGS 84) of the Starting Point: 45.898712, 6.844641
Ascent
From the car park, take the trail going inside the forest as shown by the sign "La Jonction — 4 h 50." The pathway is going to zigzag and become further a bit straighter just before the Chalet du Glacier des Bossons. After having passed two signs indicating the direction of La Jonction, the path is going to zigzag steadily again into the forest to reach further two stairs with cables going down quite steeply. The footway is going to gain altitude once more and follow along the Bossons Glacier to arrive at the Chalet des Pyramides offering a beautiful view of the Chamonix Valley. From here, follow the footpath as shown by the sign "La Jonction — 2 h 20." After several curves, the trail leaves the forest; yellow dots on rocks now indicate the way to follow after having passed a wide concrete slab. The track becomes much more rolling as it goes down to the Taconnaz Glacier and goes up to reach a little pass bypassing the Mont Corbeau. The footpath is going to go down and up again to arrive at the Gîte à Balmat where a lot of granitic rocks remain: it's the last part of the ascent. After many zigzags and a final curve to the right, La Jonction is reached, at the foot of the Bossons and Taconnaz Glaciers.
Descent
Take the same path as depicted above.

Photos of La Jonction (Chamonix)
Route
Download the route (KML) Download the route (GPX)
This post is also available in Français