Very Easy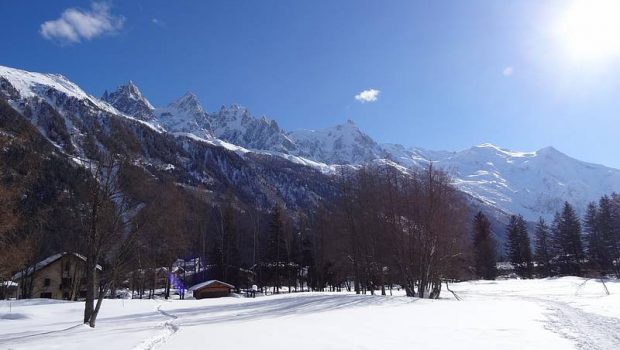 Bois du Paradis (Chamonix)
The Bois du Paradis, located in the commune of Les Praz, remains a haven of tranquility in the winter tumult of Chamonix Valley, far from the hustle and bustle of the city center and the slopes. Offering a beautiful panorama from Drus to Dôme du Goûter, the wood is truly the place to visit in Chamonix during the winter!

Difficulty: Very Easy
Altitude: 1,070 m
Onward journey: 1 hour 00 min
Backward journey: 0 hour 30 min
Elevation Gain: 20 meters
Round-trip: 3.6 km
Map: IGN 3531 ET
Getting There
Park in front of the Golf de Chamonix, at the beginning of the Route des Tines, just after the roundabout. It is also possible to park in the parking lot of the Route du Golf next to the Arve river.
GPS Coordinates (WGS 84) of the Starting Point: 45.941418, 6.887791
Route Description
I don't propose any description of the itinerary this time, as the path is quite obvious 🙂
As I have already indicated, it is possible to reach the Bois du Bouchet located on the other side of the Arveyron by taking the D 1506 road in the direction of Chamonix for about 500 meters.
Photos of the Bois du Paradis (Chamonix)
Route
Download the route (KML) Download the route (GPX)
This post is also available in Français