Very Easy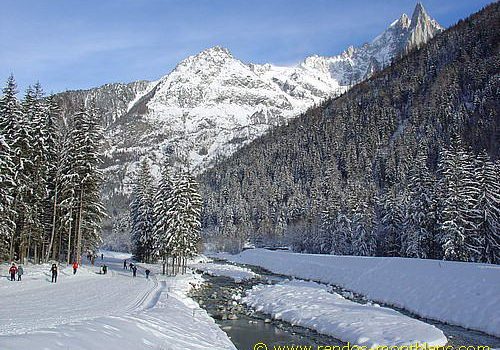 Bois du Bouchet
The Bois du Bouchet is a great stroll within reach of all, in a gorgeous setting, a few minutes from the center of Chamonix. It gives the right to see the highest peaks of the valley by strolling on a marked circuit without any difficulty.
This permanent itinerary in the Bois du Bouchet is to be discovered both in summer and winter.

Difficulty: Very Easy
Altitude: 1,050 m
Route: 1 hour 00 min
Elevation Gain: 30 meters
Round-trip: 3.5 km
Map: IGN 3530 ET
Getting There
Park in the parking lot along the road, just after the sports center of Chamonix.
GPS Coordinates (WGS 84) of the Starting Point: 45.929436, 6.877361
Route Description
No itinerary here as the route in the Bois du Bouchet is perfectly marked.
For the most courageous ones, it is possible to continue until the end of the wood to reach Les Praz and to walk on the snowy path along the golf leading to the Bois du Paradis located under the Balcon Sud. From here, you have a better perspective on Aiguille du Midi and Dôme du Gouter.

Photos of Bois du Bouchet (Chamonix)
Route
Download the route (KML) Download the route (GPX)
This post is also available in Français