Places I Like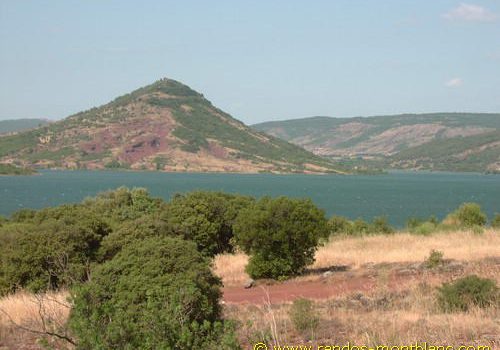 Photos of Lac du Salagou
The Lac du Salagou was created in 1969 by the Conseil Général at about fifty kilometers from Montpellier, near Clermont-l'Hérault.
The wine crisis prompts the public authorities to envisage a conversion of the vineyard into an orchard, which necessitates the creation of a water reservoir for irrigation.
The creek of Salagou, whose floods are often spectacular, is chosen to dig the lake. A dam of basalt rock (material common in the region) covered with bituminous concrete is constructed. The water impounding structure was inaugurated in 1969.
The maximum height above the foundation is 62 m, the crown length is 357 m, and the width is 7.42 m. It will take three years for Lac du Salagou to reach its current level of 139 m. During construction, the planned level was 150 m, but in 1996, the Conseil Général of Hérault sets the maximum rating of the lake at 139 m.
Its length is around 7 km for a mass of 125 million m3 of water and an area of 750 hectares. The fauna and flora that develop on its red lands are very particular. The lake is forbidden to all motorboats, but the sail remains allowed. The Tramontane, a local wind, makes Lac du Salagou a favorite spot for funboarders.
Due to sun conditions in summer, the temperature of the water reaches 28 ° C. Fishing of beautiful fish, carnivorous, carp, also attracts many enthusiasts on its shores.
Hikers, pedestrians, or mountain bikers will be delighted to travel the 28 km of the path that follows the banks of this magnificent lake, which is a haven of peace and tranquility.

Album photo du Lac du Salagou
This post is also available in Français