Hard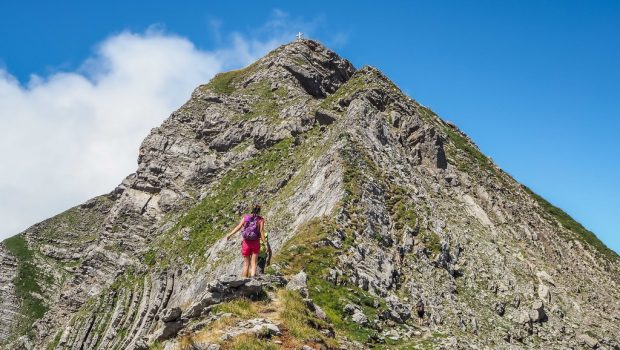 Hauts-Forts
Dominating the ski resort of Avoriaz located at the southern end of the Chablais, Hauts-Forts is an ideal goal where one strolls into a desert environment after the winter bustle. The impression created by the scene is part of a double contrast that plays on the opposition between the Alps and Avoriaz's urban "vessel" left in hibernation during the summer, as well as between the green tops of the Chablais Alps and the high rocky mountains of the Giffre Massif nearby.
Without great difficulty at the beginning, the route climbs towards the peak by first passing the chairlifts of the ski resort and then rises in a steep scree after Plan Brasy before a final technical and vertiginous ascent to reach the summit. People who are afraid of heights will stop at the pass which already offers a beautiful view on the Chablais.

Difficulty: Hard
Altitude: 2,466 m
Ascent: 2 hours 00 min
Descent: 1 hour 00 min
Elevation Gain: 640 meters
Round-trip: 7.1 km
Map: IGN 3528 ET
Getting There
From Morzine, get to the ski resort of Avoriaz and come to park in the wide parking lot at the entrance of the village.
GPS Coordinates (WGS 84) of the Starting Point: 46.197432, 6.767920
Ascent
Get through the station by going to the right to reach the Place du Téléphérique to get to the start of the trail. From here, follow the steep "Hauts-Forts" path that is used as a winter ski run. After some curves, this pathway emerges quite quickly on the arrival of Stade's chairlift offering a beautiful perspective on Pointe de Vorlaz. Proceed the winding trail under Lac-Intrets's chairlift before reaching the arrival station after a right turn. From here, take the path going to the left rising under the summit to reach Plan Brasy where one will begin the second part of the ascent in a rather abrupt scree. Once arrived at the pass under the pylon, the cross at the top is very close. Continue along the ridge on a vertiginous pathway and equipped with cables. Some passages are very exposed to heights and any fall would be fatal. Hauts-Forts summit is won in about fifteen minutes.
Descent
Take the same route as described above.
Photos of Hauts-Forts
Route
Download the route (KML) Download the route (GPX)
This post is also available in Français