Hard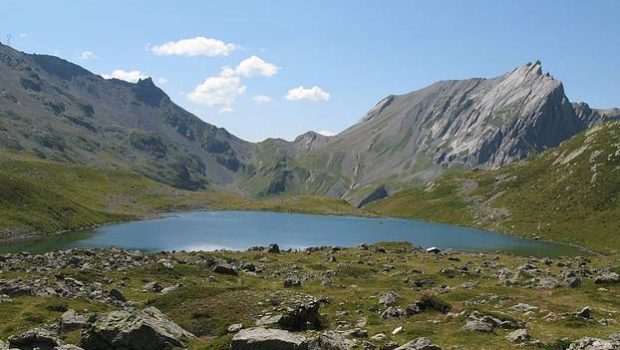 Lacs Jovet
The Lacs Jovet are the objective of a very nice hike for the well-trained hiker given the length of the course. Taking the Tour du Mont Blanc circuit, the route offers a magnificent landscape along the path that attracts the eye and forgets the difficulty of some steep (but never dangerous) passages.

Difficulty: Hard
Altitude: 2,174 m
Ascent: 2 hours 50 min
Descent: 2 hours 00 min
Elevation Gain: 1,020 meters
Round-trip: 13.9 km
Map: IGN 3531 ET
Restrictions : Dogs on a leash tolerated. Gathering prohibited. Bivouac allowed between 7 p.m. and 9 a.m.
Getting There
Go to Notre Dame de la Gorge 13 km south of St-Gervais after Les Contamines Montjoie. Vehicles are parked at the terminus of the road, just before the entrance of Notre Dame de la Gorge located along the Torrent du Bon Nant.
GPS Coordinates (WGS 84) of the Starting Point: 45.791925, 6.715540
Ascent
The start is to the left of the car park by ascending the Roman road that leads to the Chalet-Hôtel du Nant-Borant.
Continue the trail to the Refuge de Balme where it is possible to eat. The path becomes steeper and goes towards an EDF pylon.
Further, turn left to leave the TMB route, and go to a waterfall that can be seen in the distance.
After a last steep ascent, which may seem difficult after the exertions, you perceive the first Lac Jovet. Sports enthusiasts can climb towards the Col d'Enclave (an additional 1h30 walk) with a beautiful view of the two Lacs Jovet.
Descent
Take the same route as described above. The itinerary on the GR 5 between the Balme and the Nant-Borrant may seem, however, rather long after all those kilometers you've walked.

Photos of the Lacs Jovet
Route
Download the route (KML) Download the route (GPX)
This post is also available in Français