Easy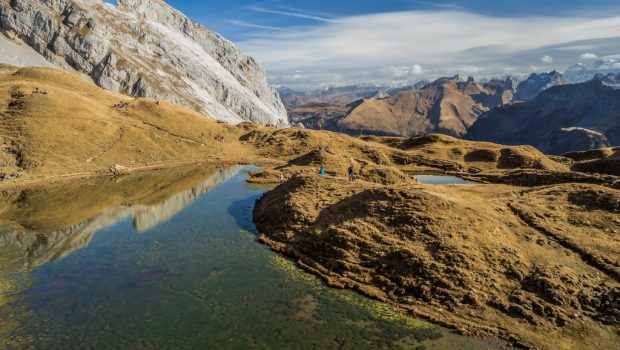 Lac de Peyre
The Lac de Peyre remains a family hike par excellence that will enchant youngsters. Without difficulty, except perhaps the steep footpath reaching the Col de Balafrasse, the route allows access to the lake by a well-marked trail climbing amid large blocks of rocks. It is possible to observe the local fauna constituted by marmots, as well as ibexes (massacred shamelessly in October 2015 due to a brucellosis epidemic).

Difficulty: Easy
Altitude: 2,108 m at the Lac de Peyre, 2,296 m at the Col de Balafrasse
Ascent: 1 hour 30 min for the Lac de Peyre, 20 extra min for the Col de Balafrasse
Descent: 1 hour 30 min from the Col de Balafrasse
Elevation Gain: 550 meters for the Lac de Peyre, 720 meters for the Col de Balafrasse
Round-trip: 6.6 km with the Col de Balafrasse included
Map: IGN 3430 ET
Getting There
From Cluses, take the direction of Le Reposoir. Then, at Le Grand-Bornand, follow the Chinaillon and continue the road to park at the Col de la Colombière.
GPS Coordinates (WGS 84) of the Starting Point: 45.992159, 6.475464
Ascent
The departure is located near the chalet restaurant of the Col de la Colombiere. Follow the very well signposted "Lac de Peyre" trail and leave on the left the pathway that leads to the Jallouvre. After 20 minutes you reach the Chalets de la Colombière. The path is steeper up to a grassy flat. The lake is no longer very far, nestled in a hollow, enclosed by Pointe Blanche and Pointe du Midi. After a well-deserved break, I advise pursuing in the direction of the Col de Balafrasse: the view from there is splendid on the Aravis Range and the Mont Blanc Massif on one side, as well as on Bornes Massif and Lake Geneva on the other. For those who decide to continue on the right towards Pointe de Balafrasse, be careful as the trail on the ridge is very narrow; A fall at this point is definitely not allowed.
Descent
Take the same route as described above.

Photos of the Lac de Peyre
Route
Download the route (KML) Download the route (GPX)
This post is also available in Français