Intermediate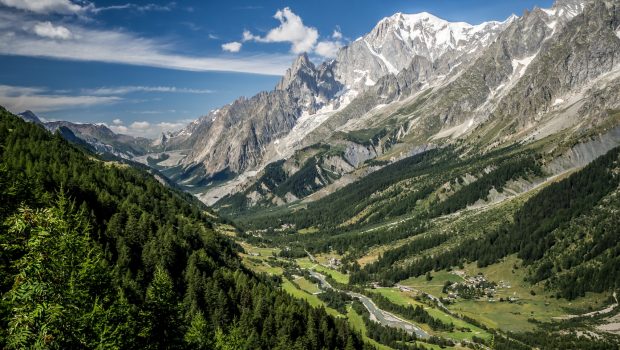 Tête Entre-Deux-Sauts via Rifugio Bonatti
The Italian slope of Mont Blanc offers some pleasant surprises for walkers accustomed to the French side of this massif. Grandes Jorasses, Mont Dolent, Aiguille Noire de Peuterey, Dent du Géant, and the Triolet set the amazing scene of this magical hike. Note that it is possible to sleep at the very comfortable Rifugio Bonatti, which allows admiring the unforgettable sunset and sunrise on these rock giants within reach of the hiker.

Difficulty: Intermediate
Altitude: 2,056 m at the Rifugio Bonatti, 2,729 m at Tête-Entre-Deux-Sauts
Route: 5 hours 50 min
Elevation Gain: 1,050 meters
Round-trip: 11.7 km
Getting There
From Chamonix, take the Mont Blanc Tunnel towards Courmayeur. At the end of the tunnel, turn left towards Entreve – Val Ferret – la Palud. Go past Planpincieux and continue to the hamlet of Lavachey. The parking lot is located right just before a wooden bridge.
GPS Coordinates (WGS 84) of the Starting Point: 45.852342, 7.024978
Ascent
From the car park, take the paved road for fifty meters that you have to leave to take a marked path with a "77" on a rock. Very quickly, the slope becomes more abrupt until a junction where you follow on the left the direction "Refuge Bonatti." After about fifty minutes, the roof of the refuge appears. A stop is necessary then, if only to admire, from the terrace, the imposing and magnificent view on the Glacier de Frébouze.
Continue on the "TMB" marked trail from the back of the shelter towards the alpine pastures. Without difficulty, you pass the Cabane de Malatra (2,213 m) that you leave on the left. The track is steeper as you approach the Col d'Entre-Deux-Sauts reached in two hours from the refuge.
The path leading to the Tête-Entre-Deux-Sauts starts right after a puddle in the meadow, towards the first peak. At mid-height, the footpath becomes steeper and better marked to the summit. From here, the panorama is fantastic: from Mont Dolent to Domes de Miage, Dent du Géant and Aiguille Noire de Peuterey, the spectacle offered to the walker can only invite contemplation.
Descent
You have to turn back and begin the descent carefully as the steep and exposed footpath quickly becomes challenging for the knees. After returning to the pass, turn right towards Col Sapin and descend into the Valley of Arminaz. Just before the torrent, leave the "TMB" marked trail and head for a ruined shack.
Always keep the torrent on the left and take the pathway to the mountain side while staying as high as possible. Leave the trail that goes to the left, and take the Cabanes de Sécheron (1,924 m) as a reference. After passing them, the track gets back into the forest to reach the path that leads to the Rifugio Bonatti. From there, turn left to arrive at the parking lot.

Photos of Tête Entre-Deux-Sauts via Rifugio Bonatti
Route
Download the route (KML) Download the route (GPX)
Download the KML file of the hike
This post is also available in Français