Intermediate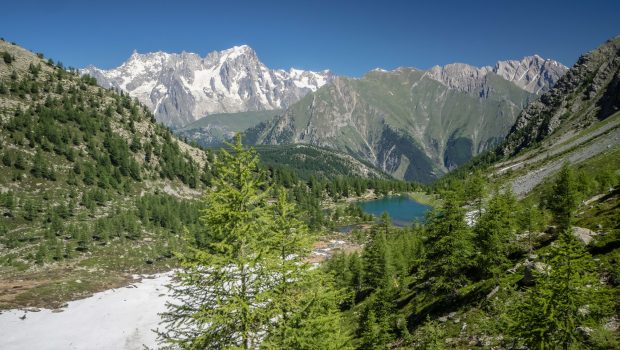 Lago di Pietra Rossa
Located in the heart of the Aosta Valley, Lago Pietra Rossa culminates at 2553 meters above sea level at the end of the Vallon d'Arpy. Stuck between Becca Pugnenta in the northeast and Mont Cormet in the southwest, the lake remains an exceptional site thanks to the grandeur of the scene offered on the south face of the Chaine du Mont-Blanc, notably the Dent du Géant and The Grandes Jorasses. The first part of the ascent shares the same path that of Lago d'Arpy.



Difficulty: Easy
Altitude: 2,553 m
Ascent: 3 hours 00 min
Descent: 1 hour 50 min
Elevation Gain: 760 meters
Round-trip: 12,4 km
Getting There
Get to Courmayeur and continue to Morgex. At the first roundabout, turn right towards Col San Carlo. Follow the road to the pass and park in the parking lot just opposite the Hotel Genzianella.
GPS Coordinates (WGS 84) of the Starting Point: 45.742817, 6.989551
Ascent
The start of the itinerary is just in front of the Genzianella hotel. Take the wide path that leads into the forest. At the first crossing, leave on the right the direction "Colle della Croce" and continue on the left towards "Lago d'Arpy". The road rises very slightly for about three kilometers to reach Lago d'Arpy. Continue on the left to follow a small path bypassing the lake from the north. A little further on, you cross a bridge overlooking the eastern shore of the lake. From there, the view is magnificent of the Grandes Jorasses. Continue to reach the south end of the lake and take the trail along the Torrent d'Arpy. Further on, you arrive at the foot of rocky terraces where the cascade of the Torrent d'Arpy flows. Turn right to go in the direction of the waterfall. The path then gets steeper; slabs along the way make the ascent easier. The footpath then crosses the Torrent d'Arpy and becomes harder to follow on passages that can be slippery; Luckily, the yellow markings make it easier to locate and give the right to reach the Lago di Pietra Rossa located a little further.
Descent
Take the path as previously described.

Photos of Lago di Pietra Rossa
Route
Download the paper route (PDF) Download the route (KML) Download the route (GPX)
This post is also available in Français