Easy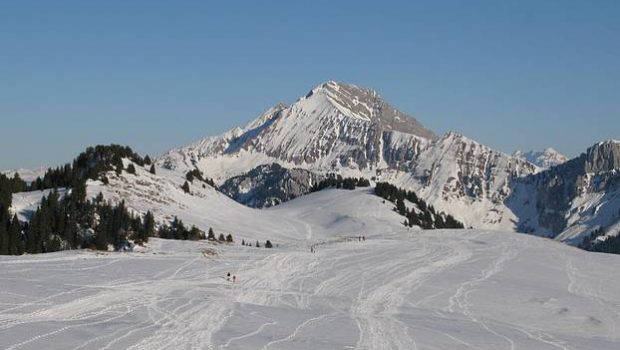 Plateau des Glières
Located on the Plateau des Glières at the end of the Aravis Range, the Chalet des Auges, just at the summit of the eponymous mountain, is the goal of a beautiful winter hike.
This trip offers a relatively short itinerary with a slight elevation gain, and a magnificent panorama of the Mont Blanc Massif, the Chablais, Lake Geneva area and the Jura.
However, a snowshoeing experience is necessary to negotiate some steep passages in the forest, including the rather steep sector of the Plan du Loup which requires good physical condition.

Difficulty: Easy
Altitude: 1,782 m at the Chalet des Auges
Ascent: 1 hour 30 min
Descent: 1 hour 00 min
Elevation Gain: 390 meters
Round-trip: 7.8 km
Map: IGN 3430 ET
Getting There
From La Roche-sur-Foron, take the direction of Annecy by the N203 road. Then take the D5 towards Thorens-Glières just after the Col d'Evires. In Thorens Glières, follow the direction of the Plateau des Glières and reach the Col des Glières.
Park in one of the wide car parks at the Col des Glières: it's best to park a little before the monument dedicated to the heroes of the resistance.
GPS Coordinates (WGS 84) of the Starting Point: 45.963214, 6.326408
Ascent
From the parking lot of the cross-country ski resort of the Col des Glières go down to the cross-country skiing lodge.
From there, take the trail going in a straight line towards the forest to attain"Les Mouilles" (1,525 m).
From there, follow the direction of "Pas du Loup" indicated by a sign; You then enter the wood again on a steeper path. This passage demands a particular effort before reaching the "Plan du Loup."
After a well-deserved break, continue towards the "Chalet des Auges."
A final effort is required to reach the summit of the Montagne des Auges by a wide track.
After a wooden barrier, you emerge on the vast plateau that marks the summit.
From here the view is superb on the Aravis Range and Mont Blanc in the background.
The most courageous will be able to get to the Chalet des Auges by following the well-marked path.
Descent
Take the same route as described above paying attention at the steep pass in the forest.

Photos of Plateau des Glières
Route
Download the route (KML) Download the route (GPX)
This post is also available in Français